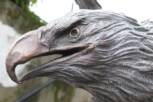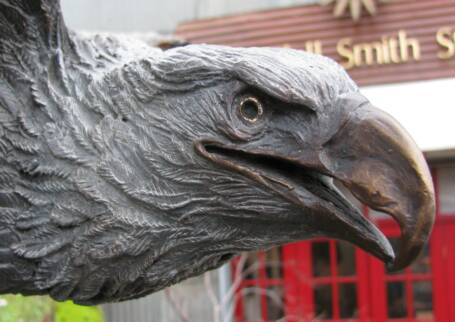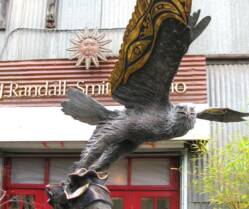 Title:  By Dawn's Early Light

This bronze measures approximately 40" high and has a wing span of 35". The original is inspired by a client's Alaskan fishing experience. He told J. Randall of witnessing a bald eagle catch a small salmon just in front of his boat.  Awestruck and moved by the powerful experience, the client commissioned J. Randall to create an Eagle in memory of the trip. The Eagle has custom embellishment -  a highly polished design motif added to the wings and salmon gives a special feature iconic to the region. Stylized renditions of the native culture reminds the client of nature's relationship to man. Two Eagles were cast, one for the client's home and another for the artist's gallery. The edition of eight remain and the artist is offering each remaining cast as a custom piece by making design changes to the areas in the wings and salmon. In other words, the native Alaskan motif can be changed reflect your own region or personal theme. It can also be enlarged to monument-sizes.

Please contact us with your questions and possibilities.

Medium: Bronze